Bungle Bungle Savannah Lodge
You've had a big day exploring the wonders of Purnululu, it's time to relax. What will you do first? Here's some options for you:
– Have a dip in the only swimming pool in the Bungles?
– Enjoy a refreshing beverage from the Bungles Bar?
– Have something delicious to eat from our onsite chefs at the restaurant?
– Go for a bushwalk through the river bed? Maybe look for some birdlife?
– Head up to the sunset spot to watch the glowing colours on the coalition range?
– Take your boots off on the verandah of your private cabin and soak up the atmosphere?
– Enjoy a soothing hot shower in your own ensuite?
– Take a quick lie down in the most comfortable bed before dinner?
– Sit by the fire and share stories of the day?
– Unwind with a book on the outdoor deck?
And the list goes on…
After you have relaxed into the afternoon and early evening, time to be spoilt with something to eat. Dinner is prepared by our chefs at the lodge, be ready to relish in a scrumptious dinner and dessert. Meals including breakfast, lunch, dinner and snacks are prepared fresh and daily at the restaurant. You can choose to enjoy meals in the indoor dining area, or out on the deck under the stars.
Everything at the lodge has been carefully designed to eliminate dependence on diesel generating systems while functioning in the remote conditions, causing little impact on the environment and blending in with the surroundings. We are very proud to be certificate in Ecotourism.
Visitors tell us that staying at Bungle Bungle Savannah Lodge is a highlight in itself and we often receive feedback that this the best accommodation they have ever stayed in. In such a remote location (which is world heritage listed), it really does make the experience so much more special. 
You've come so far. Make the adventure last.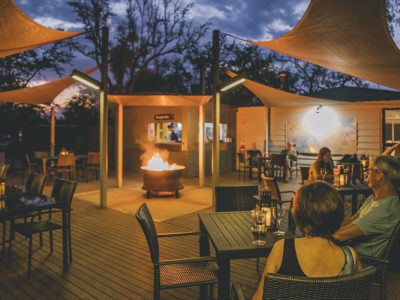 Dinner Bed & Breakfast
The lodge consists of 26 hard-walled, ensuite cabins that are designed to fit within the landscape of Purnululu National Park. Each cabin is built with timber flooring, a front deck...
More Info